Understanding OGSM
Bringing visionary ideas to fruition is not an easy task. Business owners, CEOs, directors, and entrepreneurs often map out the steps they and their organization need to take to realize an action plan on excel sheets or whiteboards. This process becomes cluttered and overwhelming fast. The OGSM method aims to solve this problem by focusing on the execution of a plan from idea to action.
In this blog post, we will highlight the OGSM method and answer the most asked questions about the approach.
What is the OGSM method?
The OGSM method helps you achieve big results through focussed strategy execution. The OGSM framework helps execute a plan from idea to action by linking your high-level purpose to small-scale actions. Alternatively, OGSTM is a similar method that aims to deliver the same integrated strategy execution process.
What does OGSM stand for?
OGSM stands for Objectives, Goals, Strategic Choices, and Measures.
An objective is a long-term vision of your business.
A goal translates your vision into specific, most critical goals for the defined planning period.
A strategy is a big, focal choice necessary to achieve your goals for the defined planning period (and beyond).
Measures are milestones to track progress.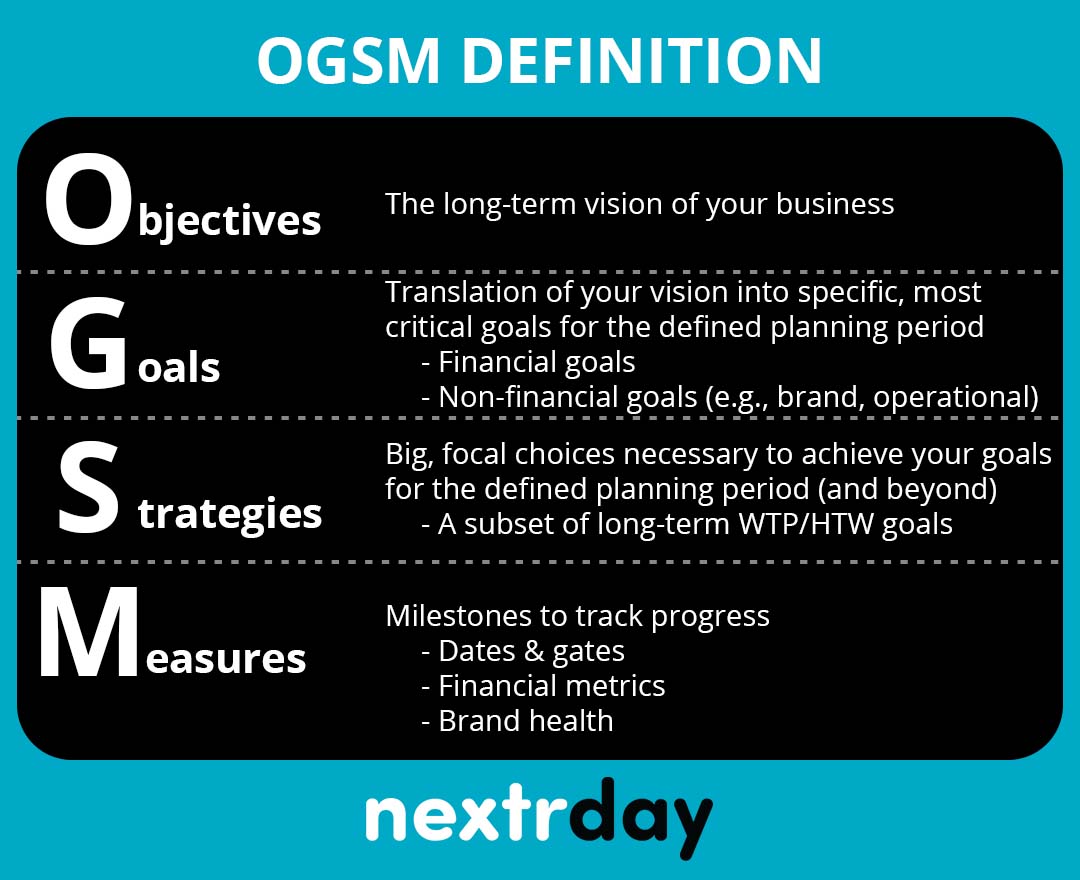 What does the OGSM method help me with?
OGSM helps you create a clear connection between the original vision, goals, strategic moves, and the results necessary to align stakeholders and actions with a common vision at all times. OGSM does this by ensuring the execution of strategies is organized systematically. If you use the method well, it'll help you execute a plan from idea to action.
Who uses the OGSM method?
The OGSM method is essentially an action plan framework. Hence, anyone who oversees the execution of multimodal plans should leverage the OGSM approach to achieve their desired results. It has been used at the C-level to direct board conversations, by entrepreneurs to build new businesses, and by project and product managers to define their action plans.
What does the OGSM framework look like?
In the OGSM framework you find objectives, goals, strategies, and measures. Your vision & purpose are the starting point for the entire framework. The actions should work towards accomplishing all the prior blocks.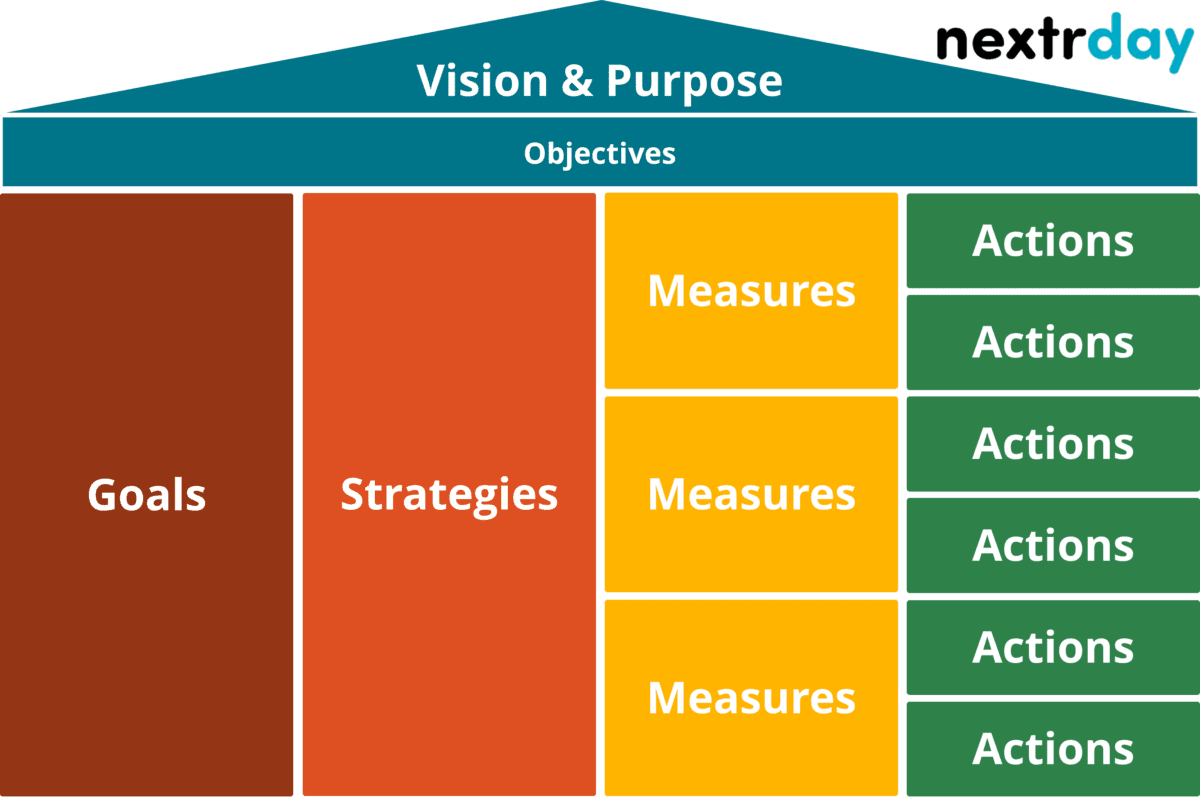 How can I use the OGSM method?
OGSM is essentially a framework that can be used to guide action plans on paper, excel sheets, or word documents. However, today's businesses and startups often struggle with centralizing their strategy execution processes with multiple stakeholders digitally. As a result, using a digital tool to guide strategy execution with the OGSM approach can keep all stakeholders on the same page at all times.
From strategy to execution with excellence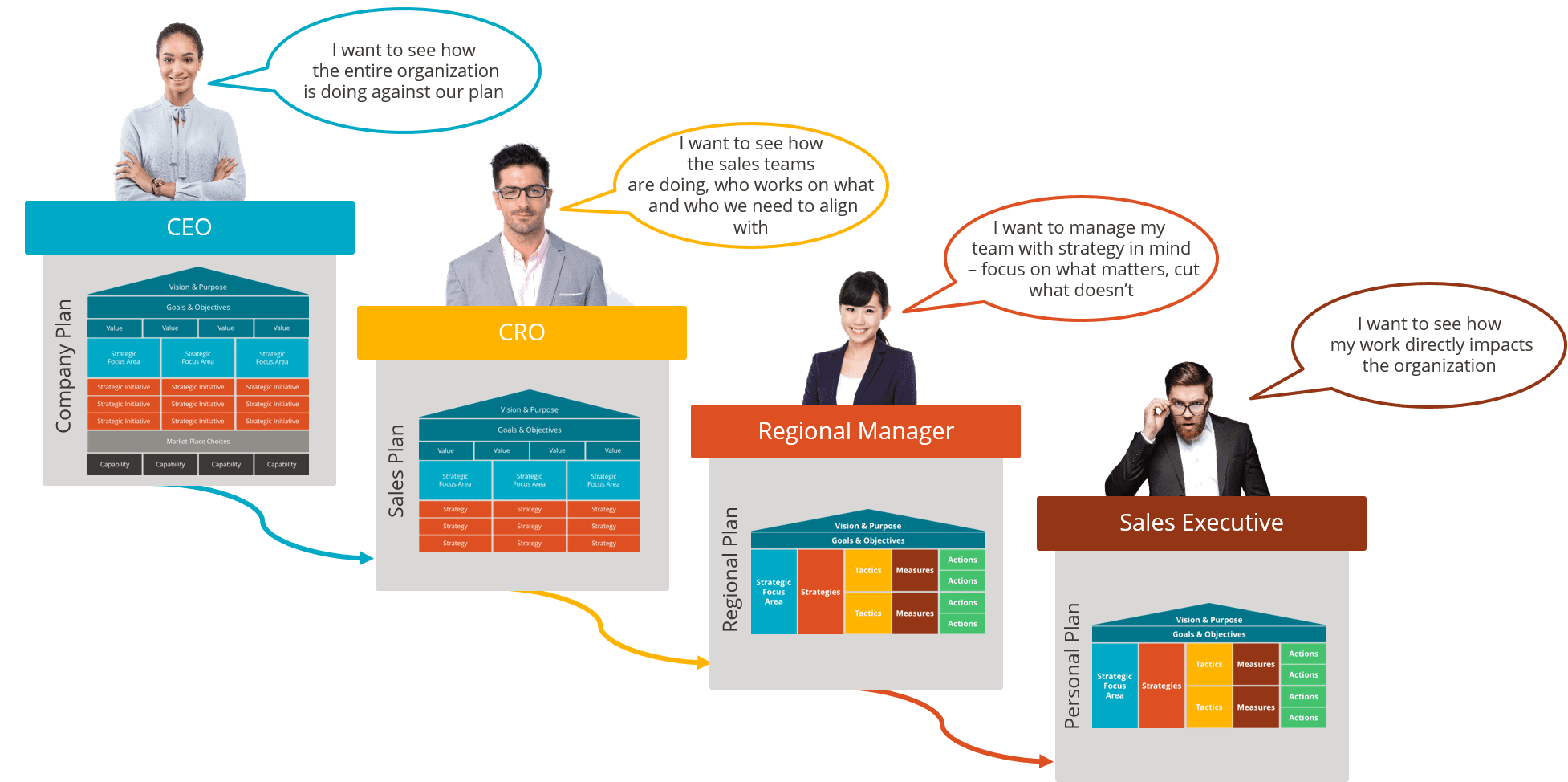 The OGSM process is quite straightforward but may require support to streamline. The OGSM approach is an essential tool to help you execute your strategy to success. It is leveraged by small businesses and hyperscale projects across all industry domains to realize the commercial potential of ideas. Nextrday has helped multiple clients execute their strategies with the OGSM framework – and we can help you too.
We love helping ambitious organizations reach new levels of sustainable growth through vision and purpose, strategy and execution, digital tools and go-to-market optimization.